Hey- hey, it's Friday! Filling you in on some of my Friday Loves for the week!
1. Harry Potter Marathon. The last few weeks we've been hosting a Harry Potter marathon with our camp interns and last night we finished both Deathly Hallows movies! So good! And I really need to find some spare time to read the books.
2. Paint colors. I think I mentioned how I've been searching for the perfect paint colors for our house and I thought I would share what we've chosen. I'm excited to share the whole tour when the house is ready, but for now here are the colors we chose.
Clockwise from top left: Silvery Moon, Sweet Bluette, Iced Cube Silver, and Uknown White with Pink Undertones (I forget this ones name, but I think this color is a good representation). The darker gray (top left) which is still pretty light will be in the living room and dining room. The blue is for the kitchen and entry.  The lighter gray/silver is for our bedroom and the stairs. And the white with a touch of pink is for Layla's room.
3. Decorating Changes. We are switching over from our living room being browns, reds and golds to cool grays with light aqua and pops of fun brighter colors like peacock, navy and yellow. Here's an inspiration look…
From http://interiors.tealandlime.com/portfolio
And here's another from Young House Love: (Who are done blogging for now? I feel like Domino magazine died all over again.)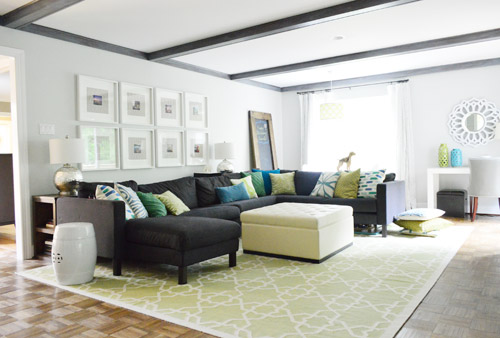 Except not that much yellow. Just a little yellow.
4. Enjoying long fall walks while we can. It's gonna be frigid again soon! Not that I'm complaining–I hate when people complain about winter being cold like that is some extraordinary phenomenon.  Winter is cold.  If you live above the Mason-Dixon it's really cold. If you want to live where winter is warm there's Florida, California, Texas and uh, the whole world south of the equator. End rant.
5.  Keeping up with Layla. Little miss is all over the place. She is eternally curious and now that she's started pulling up along with crawling I feel like no surface is safe. It's gonna be fun!
Those are my Friday Loves this week!
What are you loving this week? Are you a Harry Potter nerd? What do you think of my new house look? Have you ever completely switched up your colors? 
Linking up to some great linkups today–check them out here!
---
Next Page »